English Education Consultation with the U.S. RELO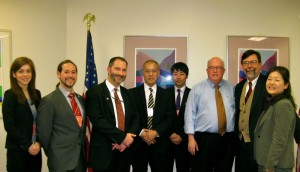 This week, after much help and planning with American Consulate General Osaka-Kobe Public Affairs Office staff-member Eri Nakanishi, we were able to arrange a meeting between AJET representatives and the United States Regional English Language Officer (RELO) George Scholz.
It was an amazing opportunity, and I was able to learn a lot about how various groups including teachers, government officials, and people like us are working towards the betterment of English education in Japan. I attended the meeting with fellow schoolteacher Murakawa Masahito, AJET Director of Public Relations Cailin Arena, and Toru Nakahara, Prinicipal of Izumi High School. We were also joined by Greg Kay, the Consulate General's Public Affairs officer and the Consul General himself, Patrick Linehan.
For several hours we explained the state of affairs in Japanese schools regarding English education to Mr. Scholz, who was on one of his first visits to Japan. He has been working in Indonesia and recently relocated to Seoul, Korea. Needless to say, we had many questions about English education there.
The meeting was a fantastic first chance, I believe. We got to know each other, better understand each other's varied backgrounds, and determine what we all bring to the table. Representing the State Department, Mr. Scholz was able to explain in detail the variety of services on-offer, ranging from training and seminars to online resources and support. I had heard of Education USA of course, but I had no idea how much the US State Department was doing to invest in English opportunities for people all over the world.
We all agreed that this wouldn't be last time we met to discuss English and how the State Department could get more involved with education. When I left, I couldn't help but think that we were making steps in the right direction….
For more on the U.S. Consulate in Osaka's activities, click here.
To read Principal Toru Nakahara's coverage of the day's events, click here.