US State Department visits Izumi High School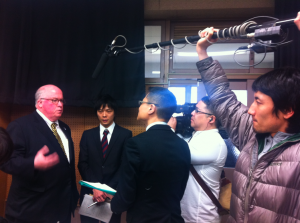 Today was another exciting chance to show the State Department an example of Japan's varying English programs. Osaka-Kobe Consulate General, Patrick Linehan, and his Public Affairs Officer, Greg Kay, visited Izumi High School to watch a teaching demonstration led by Osaka JET, Cari Edgar.
This was actually my second time observing one of Cari's classes. Last year, Cari was selected to teach a demonstration lesson for a large group of us in Osaka, and show us what she and the English department at Izumi have been working on. Izumi High School is at the forefront of some of the most intensive English programs in the entire prefecture, with special classes for high school students who are in preparatory classes for the TOEIC tests, and science and math courses taught entirely in English.
At our meeting in January with the State Department's RELO George Scholz, the principal of Izumi High School, Toru Nakahara, had the chance to meet Patrick Linehan directly. Knowing that Izumi students were exceptionally motivated to seize English speaking opportunities, we thought that inviting Patrick to come see them, would be a great opportunity for the school as well as the state department to see what's happening in public high school English lessons.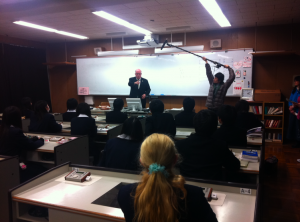 It turned out to be one of the most impressive classes I have ever seen, and I was surprised by the level of their course material.  Many students were memorizing vocabulary definitions, that would be difficult for native English speakers, much less EFL students!  Afterward, Patrick engaged the students, speaking to them about political topics, studying abroad, and how to achieve their dreams in life.  Several media outlets were there covering the event and gave several of the students the chance to be interviewed on TV themselves.
Days like this remind me that Osaka is the absolute best place to be if you're interested in the direction of English education in Japan.