Minister of Foreign Affair's Tohoku Memorial Reception at the Iikura House, Tokyo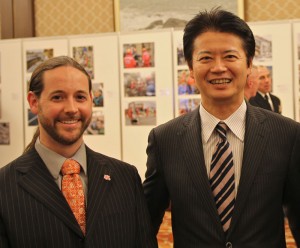 Today I had the great honor of attending the special memorial reception of Koichiro Genba, the Minister of Foreign Affairs in Tokyo.  I was invited as a representative of the JET Programme and as someone who had helped in the Tohoku relief and aid Efforts this past year.  I was accompanied to the event by fellow JETs Jon Leflore and Carl Farlow, who also played a significant part in relief efforts after the disasters.
The event was held at the Iikura House in Roppongi and was a spectacular event.  In attendance were high level officials and diplomats ranging from Japanese Cabinet members and secretaries of state from countries all around the world.
While it was somber event in remembrance of the lives that were lost, it was also uplifting to hear great stories of success in the aftermath, stories of people helping people from various backgrounds, and stories of how far reconstruction has come.
We were entertained by speeches from the band "Monkey Majik" and moved by the amazing sounds of the Fukushima Prefecture Asaka Reimei High School Choir, a repeat winner of the Best Choir of Japan Award year after year.  Their songs were emotionally touching and something I will not soon forget.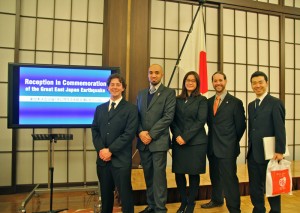 I even had the pleasure of meeting the Minister of Foreign Affairs, himself, and having a short conversation with him.  I was surprised by how easy-going he was and comfortable to speak with!  He even told me that he had once worked in Daito city, Osaka, where I am currently living.
On behalf of JETs, I thanked him for the Ministry's continued support of the Programme and told him how much it has meant to us all.  I explained how large the readership of Connect magazine had become and asked if he would consider writing to the JETs and the incoming JETs, because I thought it would be great if we could all hear his thoughts on the Programme.  He said that he would, and I was humbly thanked him for his time and consideration, knowing what a great honor this would be.
I can't thank the Ministry of Foreign Affairs enough for inviting me, and hope that everyone else will use this anniversary as a reminder of how far we've come, as well as a reminder of how much we can do together.