JETs and Diplomats Dinner in Umeda, Osaka.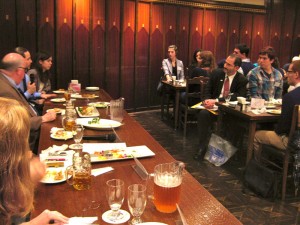 In addition to engaging government officials in discussions related to English education, a lot of the work we do in Osaka is aimed at providing JETs with opportunities to meet and exchange ideas. This week, our friends at the
US Consulate Osaka/Kobe
, graciously invited all the JETs in the Kansai area to an exclusive dinner with members of the State Department and diplomats throughout Japan.
Among the members of the panel were JET alumni from each decade of the Programme's existence. Richard Mei, Ben Brown, and Danette Sullivan represented the 1980's, 1990's, and 2000's, respectively, while myself and AJET's Director of PR Cailin Arena spoke on behalf of current JETs.
All of them were there to speak about their experiences working for the US State Department, and also to give advice to those considering applying. Considering the state department and JET have very similar values in terms of internationalization and promoting foreign interests abroad, we were extremely pleased with the chance to collaborate on an event! Questions from the audience ranged from specific advice about life working for the State Department, to questions about how to study for the Foreign Service Exam.
This dinner, that was arranged in conjunction between AJET and the US Consulate, is part of a new events series myself and others are working on. This night was just one of the many opportunities in store for JETs and JET alumni in the Kansai area. Other highlights from this Spring include the Stonewall AJET dinner at the US Consulate General's home in Kobe, and the Yamamoto Theater Osaka JET collaboration performances.
To stay up to date about upcoming events, don't forget to follow me on Twitter, and like my page on Facbeook!