Orphanage Kids Trip to Classical Music Show at Osaka International House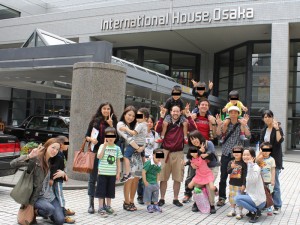 Performance at Osaka International House[/caption]This weekend, was an exciting one! We have been working with the
Osaka International House
, which is a public-service corporation founded by Osaka City in 1887, and authorized by the Ministry of Foreign Affairs in 1993, as well as the Cabinet in 2012. Recently we've worked with them on several projects. They have the same goals of internationalization, and they provide lots of great services to foreigners in Osaka. This weekend, they set us up with some amazing performers who put on a show about classical music just for kids.
For the past year and a half, myself and other JETs/JET alumni have been volunteering every other weekend at an orphanage in Osaka. It's really been one of the most fulfilling, and fun, things I've done in Japan. We play, sing, make crafts, and teach English to 3-6-year-olds.
Thanks to help from the Osaka International House, Mariko Mukai, Carl Farlow, Miki Minami, Maruyama Tetsuji, Aakruti Vakharia, and myself were able to take the kids to this great show!
We picked the kids up an hour and a half before the show's start for the long walk there, which included lots of carrying them around on our shoulders. After getting there, we had some spare time until the show, so we drew on scrap paper with them and chatted while we waited.
Of course, I couldn't resist using the time to let one of the kids try some Alphabet and Phonics games out on my iPhone! It's really amazing to watch a young learner with technology. Things that take adults time to figure out, they learn in a fraction of the time! Before I knew it he was typing, writing, and drawing away on my iPhone, and learning the alphabet.
The show was a blast. There was a piano player, and the MC was an opera singer dressed colorfully with feathers all over him. We also saw a guitar player and violinist, and a man playing a saw. (An actual saw, that you could cut a tree down with, using a bow similar to a bow from a violin). These guys were truly talented, and I can't thank them enough for the show they put on, and for an unforgettable day with the kids!
For more pictures of the event, click here.