iPad in Elementary School Lesson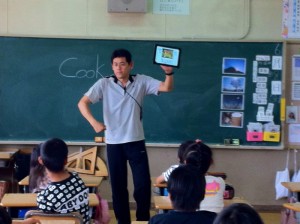 This Friday, I was teaching at Sanga elementary school. It was my first time to visit and see these particular students, so I had the chance to do the infamous "jikoshokai" (or, self introduction), before getting into teaching them the alphabet.
In my elementary school classes, I've been letting the homeroom teachers use my iPad, connected to an Apple TV on a 55 inch flat-screen TV, to introduce the alphabet to the kids. Last year. I ordered a rubber-band-type gripper which stretches around the back of your iPad, so that you don't have to worry about dropping it and can even hold it up in the air to display what's on it to the students. I showed the teachers how to use this, popped open a keynote presentation with pictures of the ABCs and advised the teachers about how to move and control the slides.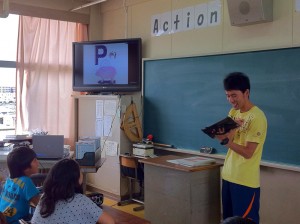 The homeroom teachers did a fantastic job, and their use of the device looked really natural. Sanga's principal visited all of our lessons, and continues to show his interest in these classes paying off. It's encouraging knowing that support is there for these teachers from the top administrator at Sanga.
Classes continue to go well, and I'm really looking forward to seeing the direction that it takes in the future, considering how the teachers are adapting to teach a language they can't speak, not to mention how naturally they're picking up the use of Apple's devices to enhance their lessons.