ACCJ BBQ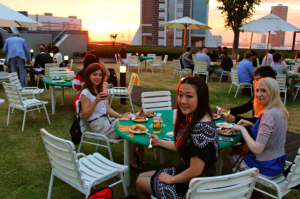 Yesterday was a great evening, spent at the Hyatt Regency Osaka's open-air Garden BBQ competition. It was sponsored in part by the American Chamber of Commerce Japan's Kansai chapter, which I have recently become interested in.
For those of you who aren't familiar with the American Chamber of Commerce in Japan, it is a large and internationally recognized networking association, which aims to develop commerce between the United States and Japan, as well as improve the international business environment here.
One of the best parts of the ACCJ is its selection of committees which connect foreign professionals by industry, and support the exchange of ideas and information. All in all, they do a tremendous amount of work every year on behalf of individuals just like you and me, who face unique challenges trying to navigate the business landscape of a foreign country.
This grilling event in particular, was a chance for me to meet a ton of new people who are all developing extraordinary things right here in my own city!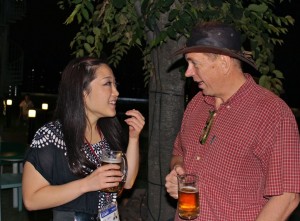 In addition to some of the best BBQ I've had in a long time, delicious drinks, and inspiring conversation, the weather was perfect and made for an absolutely beautiful Osaka sunset. Thanks to the ACCJ for arranging this exciting event, and I cannot wait see what you are planning in the near future!
For more information on ACCJ's upcoming events, you can visit their website here.