Osaka/Kobe U.S. Consulate General Visits Tanigawa JHS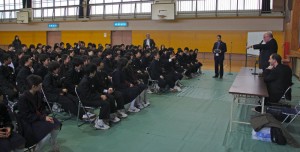 Today was absolutely one of the most memorable days I've had teaching in Japan!
We were honored at Tanigawa Junior High School in Daito city, by a visit from Patrick Linehan, the Osaka/Kobe United States Consulate General, along with Greg Kay, the Public Affairs Officer, and Public Affairs Office staff member Eri Nakanishi. When they arrived, we had a short talk with my Prinicipal, Masataka Kugimiya about the US State Department's support for English education. Afterward, they sat in on my 7th grade students' classroom and gave a demonstration class for just over 30 minutes.
Since it was a short class, we decided to highlight some of the fun things we've been doing, including "buzzer" game-show-style games, iPad activities for telling time and reading, as well as phonics practice and quizzes.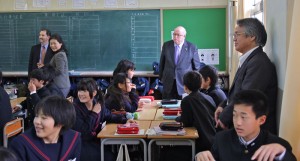 After our demonstration lesson, we moved to the gymnasium where all 150+ 7th-grade students and teachers were waiting. Mr. Linehan gave us a meaningful speech highlighting his background, explaining how he arrived at his current position with the State Department, and the importance of U.S./Japanese relations.
Mr. Linehan also had a special message regarding their English language education, which was highlighted by three main points.
1. Speak
2. Make Mistakes
3. Go!
His first point was that it is impossible to learn a foreign language without speaking it. I couldn't agree more, and feel that speaking and verbal communication is severely lacking in Japanese schools' English education classes. He urged the students to have fun, and speak to me as well as each other in a different language so that they could practice and enjoy a "living" foreign language.
The second point that he told my students is one that I couldn't agree with more, based on my time and experience in Japan. The idea is that we learn more than we ever imagined about our own country and culture by experiencing someone else's.
Finally, he focused on the importance of "making mistakes", explaining that you can't learn without doing so. He even said that making mistakes was part of the fun! To highlight that point, he told us a personal story he had of learning Japanese and telling a shocked Japanese language teacher that he "drank" the newspaper that morning! (The words "drink" and "read" are similar in Japanese). Finally he explained that students should make a point in their lives to go places. He encouraged them to travel and have as many foreign experiences as they could. He said that living in and travelling in foreign countries not only helps one to learn language, but to learn more about life and the world we all share.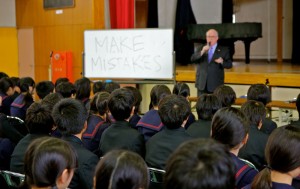 Following Mr. Linehan's message, my students asked continual questions of the Consulate Officials, who gave the students Japanese-American flag lapel pins. I was really proud and surprised at the depth of many of their questions. My 12 and 13-year-old students were really mature, and asked questions that required a lot of thought and reflection. Some asked about American military bases in Okinawa, Mr. Linehan's thoughts on the orderly structure of Japanese society, and even what he thought of the constant turnover of Japan's prime ministers.
Afterwards, Mr. Linehan visited the Prinicipal's office, where he gave everyone presents and even left gifts for the students who hadn't been lucky enough to get pins in the assembly! As they boarded the Consulate vehicle to depart, the kids all ran up to them with sincere "thank you's"
It was an amazing experience for me, and if it was even a fraction as good for these people that I treasure in my Japanese community, this was a major success. I cannot thank Patrick, Greg, and Eri enough for this experience, and hope that I can someday return the favor as a way of repaying them.
For more pictures of this amazing day, visit the gallery page here.