Yasaka Jinja iai demonstration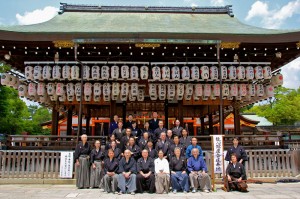 This Sunday, my iai-do group, the Renshinkai, had our yearly demonstration at Yasaka shrine in the Gion district of Kyoto. Yasaka shrine was first constructed starting in 656 AD. It's become one of the most famous shrines in Japan and a sightseeing destination for hundreds of thousands of people visiting traditional Kyoto every year. The ability for us to be on the main stage there, and dedicate our performances to all the history which surrounds this historical place is such a privilege.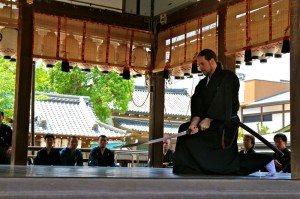 Considering that these demonstrations are done at Shinto shrines, we first sit through a ritual performed by a priest and receive his blessing. As we leave the inner shrine, we take a sip of sacred sake, and prepare ourselves for demonstration on a stage is open on four sides so that spectators can see from all sides. About thirty of us show 5 waza (choreographed sets of techniques) each, and it takes over an hour for us to finish.
Hundreds of tourists came by during that time, asking questions, taking pictures and marveling at this living piece of Japanese culture and history. It's always exciting for me to not only take part in this myself, but also an honor to be able to share my love for it with others!
I've practiced iai-do for over 4 years now in Japan, and it's absolutely my favorite part of Japanese culture. Being here as a JET for 5 years has given me the opportunity to experience Japan in ways like this, and is a debt that is difficult to repay.
For more pictures from the day, click here.