JALT CALL SIG National Conference, 2012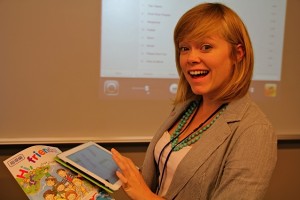 This was an amazing weekend for me, spent at the Japan Association of Language Teachers (JALT), Computer Assisted Language Learning (CALL) Special Interest Group's National Conference in Nishinomiya, Japan!
I was graciously given the opportunity to speak for and listen to presentations by teachers and professors who are the leaders in the field of technology in the classroom. I was honored to be asked to speak on a forum there about my experience using the iPad in my classes. I truly believe that Apple's technology has the ability to improve students' classroom experience, and create an environment suitable for language acquisition and communication. This discussion further solidified in my mind that the use of iPad to supplement  a motivated teacher's methods can be transformative for our communities! It's true that's it just a tool to enhance a teacher's ability to engage students, but when used correctly, just one iPad and one teacher can make all the difference in the world for our students.
I helped to facilitate a discussion on this with the JALT CALL Program Coordinator, Tom Gorham.  Tom was a fantastic help, and just as excited as me about sharing opportunities with other like-minded teachers in Japan.
Current AJET representative, Mary Margaret Gillam (also from Virginia!), and Jonathan Adreano shared their JET experience regarding technology use in the classroom.  Jonathan has been developing a phenomenal social networking platform at here.  It's an amazing new LMS that looks a like Facebook, and has an extrememly user-friendly interface!  I recommend that everyone checks it out as soon as they can.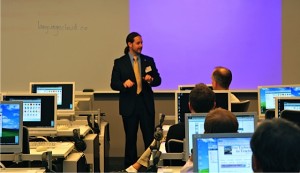 Stephen Henneberry also presented with us about some fantastic experience using the iPad at his university.  You can read more about it here.
I also had the chance this weekend to meet  Dr. Stephen Bax.  He was a plenary speaker and spoke about normalisation of technology and how technology becomes fully effective in a classroom.  His ideas and thoughts really struck a chord with me, and it was nice to hear someone speak with the same feeling and perspective that I've held for a long time.  After several conversations with him this weekend, I look forward to the chance to share ideas with him again.
I'd like to thank Edo Forsythe (JALTCALL Chair), Douglas Jarrell (Membership Coordinator), and especially Tom Gorham, for making this a memorable weekend and allowing me to be a part of it!  Can't wait for next year's conference!
For pictures from the event, click here.