25th Anniversary JET Programme Symposium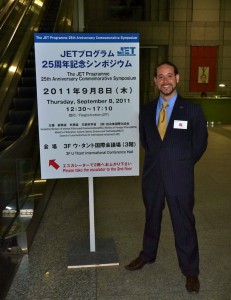 It's been a significant month in the world of the JET Programme.
On September 8th, the ministries hosted a commemorative symposium at the University of Tokyo to discuss 25 years of the JET Programme; what it has accomplished, and what challenges it faces today. The symposium featured many notable
speakers, such as United States ambassador to Japan, John Roos, and Ms. Yoko Kimura, the Chair of the Board of Directors of CLAIR.
On behalf of AJET, myself and AJET council members Mark Noizumi (treasurer) and Amelia Hagen (Block 10 rep) attended. After brief opening statements by the ministry heads, many speakers were given the chance to spotlight JETs' achievements, and voice issues pertinent to the program.
One issue, for Japan as a country, that repeatedly came up was the fact that the number of Japanese students who study abroad or attend universities in foreign countries has been on a steady decline for years. This is particularly troubling in light of Japan's efforts to globalize as more and more businesses are enforcing English as a required standard.
A highlighted concern for the JET Programme itself was the increasing number of Boards of Education who hire ALTs privately, or through recruiting companies other than JET. One of the many challenges the programme faces is how to best promote the value of what we do, and the return on investment that we can provide to the communities we serve.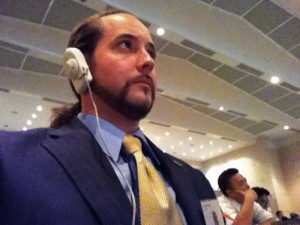 As the Chair of AJET, I am fortunate enough to work with many people who have done amazing things with their time on JET. As such, I am aware of the many benefits of the JET programme that are sometimes overlooked. However, this made me question…. is everyone else?
How do we as JETs promote the value of what we do and the return on investment that we provide to the communities we serve?
For example, did you know that over 20 of the employees at the U.S. Embassy in Tokyo are former JETs? Did you know that after the March 11th disasters, current JETs raised an estimated ¥140,000,000 yen towards the relief efforts? These are only two examples of ways that JETs have given back to Japan. The benefits of JET are vast, and the elimination of the program would have far reaching consequences.
Toward the end of the day, the governor of Kyoto made an interesting point that stuck in my mind. He said that he believes the competition of privately hired JETs and the decrease of requests for JETs is actually a good thing! He reasoned that this competition would serve as a stimulus for positive change in our programme to become better and to show more quality than it ever has in the past.
For more pictures from the event, click here.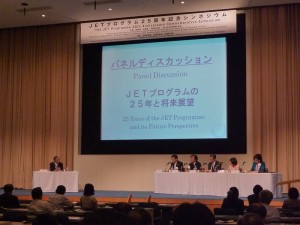 That's when I realized…. We ARE the positive change in the system now. As we speak, AJET has been working on more ways to provide resources to make JETs better teachers. Ways to learn Japanese more fluently. Opportunities to develop ourselves professionally in the field of education.
Not only that, but we're finding better ways to connect to each other online and in person via social media and larger scale, better planned volunteer efforts! We're finding better ways to let JETs VOICE their opinions and concerns to the not only the ministries, but to the people we interact with in our communities and workplaces everyday!
So, do we need to wait for the ministries to "save JET"? Should we wait for JET Alumni to prove that the Programme is a world-renowned program, that should be held in the highest regard so that we have luck with future employers?
No.
We need look no farther than to ourselves for this. We ARE the future of JET. Current JETs lay the ground-work for our successors who come next to fill our shoes.
I feel honored to have attended a symposium of so many people who have made amazing contributions to the JET Programme, and who all have a stake in its survival. I think we should take this symposium as a reminder that now
is the time for us to make more of this experience. The time is now for us to work together to be something MORE. I personally can't wait to get started making that happen. I hope you'll join us.
Matthew Cook
National AJET Chair
Symposium Speakers
Jim Gannon
Former JET and Executive
Director of the U.S.
based Japan Center for
International Exchange.
Keiji Yamada
Governor of Kyoto
Prefecture, President of
the National Governors
Association
Masao Niisato
Professor at Tokyo
International University
Angus Lockyer
Chair of Japan's Research
Centre, University of
London
Jin Ah Kim
Director of International
Cooperation Department,
Governors Association of
Korea
Yoko Kimura
The Chair of the Board of
Directors, CLAIR
Akira Nakamura
Emeritus Professor