Stonewall AJET Event in Kobe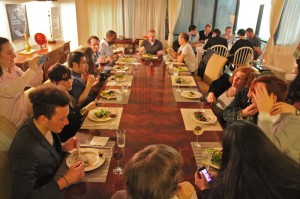 Since meeting the US Osaka-Kobe Consulate General, Patrick Linehan last year, we have had so many more opportunities to host events for JETs. Part of what AJET seeks to do for JETs is provide them with general resources useful to everyone, but we also cater to those with special interests.
Patrick is in a great position to help us do this in that he is an openly gay diplomat who is married and living with his husband, Emerson, at their residence in Kansai. Because of Patrick's openness about his personal life, he has been able to, in my opinion, be a great role model to other expats here. Patrick demonstrates that you can hold a position of high visibility and share your culture and perspective, all while being honest and open to others about who you are.
Patrick graciously offered to host an event at his home, inviting members of Stonewall, the LGBT Special Interest Group for AJET, to an exclusive dinner at his home in Kobe. Patrick's husband is from Brazil, and their cook is also from Brazil. At the beginning of this event we had drinks and then were treated to the traditional Brazilian dish, feijoada! Afterward, Patrick spoke to us for a while about his husband, how he perceived LGBT challenges in Japan, and about their experience living in Japan openly and honestly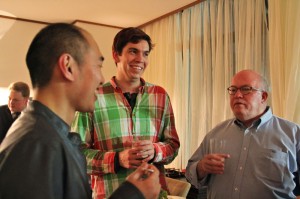 Everyone had a chance to introduce themselves. There were JETs from far and wide. I was really moved by the fact that some JETs had travelled from as far as Tohoku and also from southern islands to come to this event!
This further solidified for me that these JETs are ready to be engaged and involved, provided they have the opportunities available. Sometimes it's just a matter of giving people the right environment to collaborate openly and honestly. We can't thank Patrick and Emerson enough for extending their example to AJET's LGBT members who want to make the most of their time on JET!
More photos from the event can be viewed here.